Windshield Replacement Northampton, MA
Although it may be tempting to continue driving while you have a cracked or damaged windshield due to busy schedules and difficulty finding time, it can be dangerous when it impairs your vision. TommyCar Collision Center makes it easy for Amherst, Hadley, Holyoke, and Greenfield area drivers to schedule an appointment for windshield replacements.
Schedule a free estimate for your windshield replacement here.
Original Equipment Manufacturer (OEM)
Glass Replacement
We only use OEM parts and windshields to ensure you get the perfect replacement every time. OEM windshields are preferred over off-brand or aftermarket windshields because it is made specifically for your exact make and model, giving you a properly fitted replacement and also works to your safety and technology features such as heads-up displays.
Why should you immediately replace your windshield?
Windshield damage is a fairly common occurrence, usually caused by flying rocks or other airborne materials. While it may look like only a cosmetic issue, a cracked or chipped windshield isn't only an inconvenience, it can be dangerous. Driving with a damaged windshield can be hazardous to your safety and in some instances can be life-threatening.
Loss of structural integrity during a front-end collision:
An intact windshield can help transfer the force from a front-end collision to the chassis. This help lessen the effect felt inside the car and helps protect the passengers. If your car's windshield is cracked and it shatters during a collision, your more at risk for injury.
Great likelihood of injury during a roll-over:
Undamaged windshields will add structural support in the event of a roll-over that can keep a car's roof from caving in if the vehicle does in fact flip over. A crack in the glass can weaken the windshield making it more susceptible to allow the roof to be crushed.
Obstruction to Driver's Visibility:
Windshield cracks that are in the driver's field of vision and line-of-sight can hinder your driving abilities, especially in low light, or poor weather. Driving when your vision is hindered can lead to a collision, or can be a distraction. Many times cracks are also responsible to reflecting sunlight and causing a blinding glare to the drive.
If you're currently driving a vehicle with a cracked or chipped windshield, contact us at TommyCar Collision Center in Northampton to schedule a convenient and free estimate for your windshield replacement.
Delaying a repair for your compromised windshield could result in failure of your annual Massachusetts State vehicle inspection, or result in a ticket for operating an unsafe vehicle if the crack or chip is considered to hinder the driver's view.
Great communication and assistance

from everyone.
— Kathleen Dunn | Google Review
Attention: You Have Rights!
When it comes to choosing where to have your vehicle repaired after an accident, only you have the right to select which auto body or collision repair facility to bring your vehicle.
Schedule A Free Estimate
TommyCard Rewards members can
take advantage of the following benefits

when they repair their vehicle using the TommyCar

Collision Center.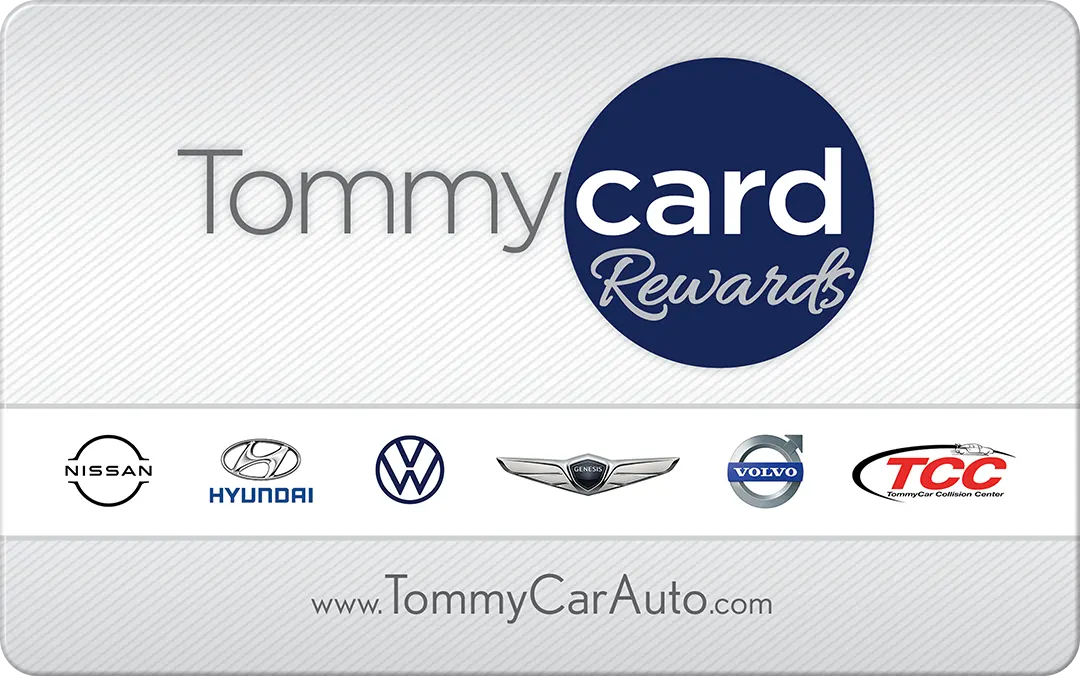 Free Collision Assistance - $200 VALUE!
If you are involved in an automobile accident, TommyCard Rewards members receive FREE towing to TommyCar Collision Center (within 50 miles). In addition, TommyCard Rewards members using TommyCar Collision Center for their repairs also receive a FREE two‑day rental vehicle!
Collision Repair Assistance - REDEEM UP TO $250!
As a privilege of the TommyCard Rewards program, should your vehicle be involved in a collision, we can help you get back on the road. Choose our TommyCar Collison Center for your repair, and you can utilize up to $250 in Points from your TommyCard Rewards account toward your deductible.
Totaled Vehicle Protection - $500 VALUE!
Should the unfortunate happen and our collision center determines that your vehicle is totaled you will receive a $500 credit toward the lease or purchase of a future vehicle from any of our TommyCar Auto group locations. Good for 60 days. Redeem along with your TommyCard Rewards points to maximize your savings.