Auto Body and Collision Services
Autobody and Collision Services
in Northampton, MA
Free Estimates | Towing Assistance | Work With All Insurance Companies
Get Free Estimate
We only use ORIGINAL FACTORY BODY PARTS for all repairs AT NO ADDITIONAL COST TO YOU & return your vehicle to its original pre‑accident condition.
Choose the "best of the best" in the Pioneer Valley for your repairs!
Any time you need autobody or collision repair, it can be stressful, but with TommyCar Collision Center in Northampton, MA, the repair process doesn't have to be! Our experienced team helps customers from Amherst, Hadley, Northampton, and surrounding communities get back on the road fast and safely. Our qualified team of accident collision specialists are capable of handling any kind of engine, body, or electrical repair your vehicle may need and will work to get your car restored back to pre‑accident condition.
Auto Body Repair
TommyCar Collision is a full auto body repair center, meaning we can repair every inch of your vehicle from front to back and everything in between. Our collision facility features the latest equipment to help our highly trained specialists provide fast, high-quality auto repair services and OEM parts. No matter how big or small the damage, our goal is to return your vehicle to a safe operating condition while making it look great and like it was never in an accident.
Paintless Dent Repair
Paintless dent repair can remove minor dents from the body of your vehicle without the added cost of a paint job. When drivers in Chicopee, Greenfield, Amherst and surrounding communities find dents in their vehicle smaller than a few inches in diameter, our experienced auto body technicians may be able to use paintless dent removal techniques to get your car looking back to what it was. Schedule a free estimate and see if your vehicle's damage can be repaired with the paintless dent repair method.
Windshield Replacement
When your windshield has a chip or crack and needs to be replaced, choose the professionals at TommyCar Collision Center. Having a clear windshield to see out of is essential, but if you don't have trained, experienced technicians on the job, you could have a window that wasn't installed properly. Windshields that aren't properly installed can cause distorted vision, heating or cooling issues, loss of vehicle safety features, water leaks, or rust. If you're in the South Hadley, Easthampton, Deerfield area and want a team of experts to handle your windshield replacement, schedule a free estimate today.
Structural Frame Straightening & Repair
If you've been in an accident one of the most important things to have repaired is your frame. A damaged frame can cause major safety concerns as well as drivability issues.
Attention: You Have Rights!
When it comes to choosing where to have your vehicle repaired after an accident, only you have the right to select which auto body or collision repair facility to bring your vehicle.
Schedule a Free Estimate
TommyCard Rewards members can
take advantage of the following benefits

when they repair their vehicle using the TommyCar

Collision Center.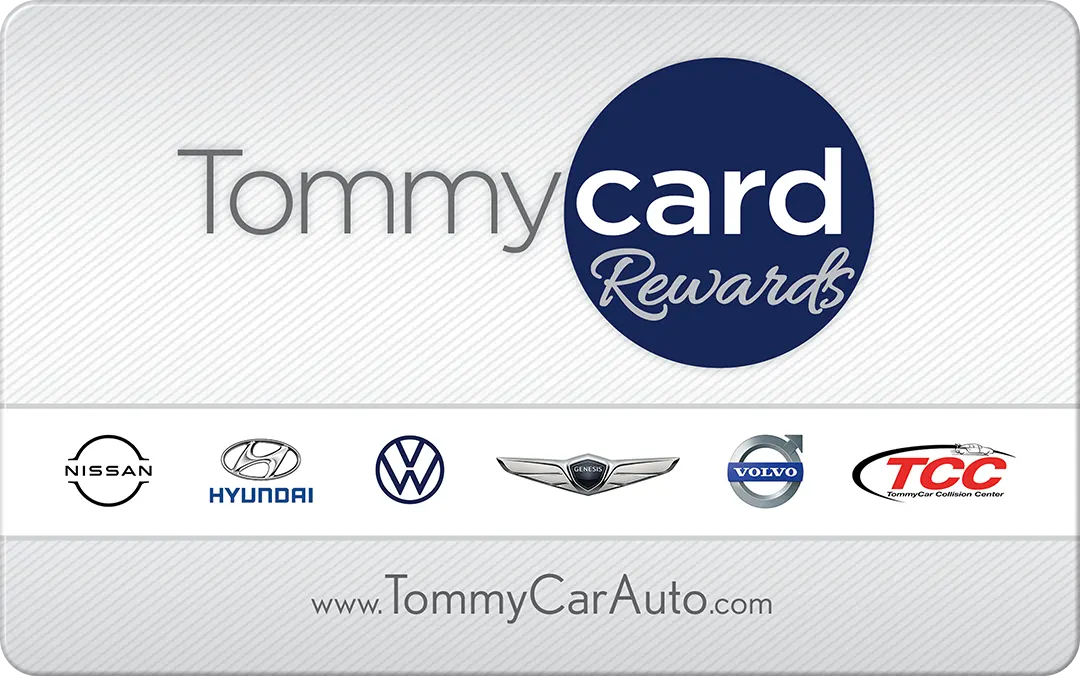 Free Collision Assistance - $200 VALUE!
If you are involved in an automobile accident, TommyCard Rewards members receive FREE towing to TommyCar Collision Center (within 50 miles). In addition, TommyCard Rewards members using TommyCar Collision Center for their repairs also receive a FREE two‑day rental vehicle!
Collision Repair Assistance - REDEEM UP TO $250!
As a privilege of the TommyCard Rewards program, should your vehicle be involved in a collision, we can help you get back on the road. Choose our TommyCar Collison Center for your repair, and you can utilize up to $250 in Points from your TommyCard Rewards account toward your deductible.
Totaled Vehicle Protection - $500 VALUE!
Should the unfortunate happen and our collision center determines that your vehicle is totaled you will receive a $500 credit toward the lease or purchase of a future vehicle from any of our TommyCar Auto group locations. Good for 60 days. Redeem along with your TommyCard Rewards points to maximize your savings.
Are you looking for auto body repair or collision services in Northampton, South Hadley, or surrounding areas?
TommyCar Collision Center is a family owned and operated full service auto body and collision center that works with all insurance companies. We can repair all makes and models both foreign and domestic, and work quickly to get your vehicle back to its original condition.