Towing & Collision
in Northampton, MA
TommyCard Rewards members receive FREE TOWING REIMBURSEMENT*
Do You Need A Tow?
Tommycar Collision Center works with a local towing provider, Red's Towing to provide towing service to our Northampton collision center. TommyCard Rewards members even benefit from FREE TOWING REIMBURSEMENT for tows within 50 miles of TommyCar Collision.
Red's Towing, Recovery, & Transport provides services 24/7 Whether you've been in a minor fender bender, or a major collision, Red's can get your vehicle to our center so we can get you back behind the wheel in no time!

Not a member of TommyCard Rewards? No Problem!
WE WORK WITH ALL INSURANCE COMPANIES!
If you've been involved in an auto accident, our team will work with your insurance company to make sure we help you take advantage of all of potential coverage benefits such as towing assistance.
TOWING AFTER AN ACCIDENT
After an accident, Western Massachusetts drivers have different options. Many times once the police arrive to the scene of an accident, they will call in what is known as a police tow with companies they have contracts with. You could also have a tow company send a truck if they heard the accident on a scanner and just arrive to the scene. It's always a good idea to have a reputable tow company such as Red's Towing information stored in your phone so you can call them after an accident for a tow and know you are working with true professionals. 24/7 service provided from Red's Towing, Recovery & Transportation means a company dedicated to safety and satisfaction will get you the help anytime you need it.
Red's Towing, Recovery, & Transport (413) 734-0101
KNOW YOUR INSURANCE POLICY
When you selected your insurance plan, you may have opted to get towing or roadside assistance coverage. If you are unsure, you can read through your policy to confirm whether or not you have it, and can contact your insurance agent if you would like to add it. If you have towing coverage or roadside assistance, your insurance company will be responsible to over the cost of your tow, but there may be a maximum dollar amount or number of miles it can be towed. If you do not have coverage for towing, this is an expense you may need to pay out of pocket for. Remember, TommyCard Reward members automatically qualify for Towing Reimbursement, up to 50 miles.
Have you been in an accident in the Northampton, MA area?
Trust the professionals at TommyCar Collision to get you safely back on the road promptly with genuine Original Equipment Manufacturer (OEM) parts.
Services Include:
Collision Repair - both minor and major
Bumper and Fender Repair
Frame Straightening & Repair
Ding & Dent Repair
Windshield Replacement & Repair
Paintless Dent Repair
Superior Color Matching & Auto Paint
Alignment & Suspension Repair
I would recommend Tommy Car for all your car needs. Professional from

start to finish!
— Susan S. | Google Review
Attention: You Have Rights!
When it comes to choosing where to have your vehicle repaired after an accident, only you have the right to select which auto body or collision repair facility to bring your vehicle.
Schedule a Free Estimate
TommyCard Rewards members can
take advantage of the following benefits

when they repair their vehicle using the TommyCar

Collision Center.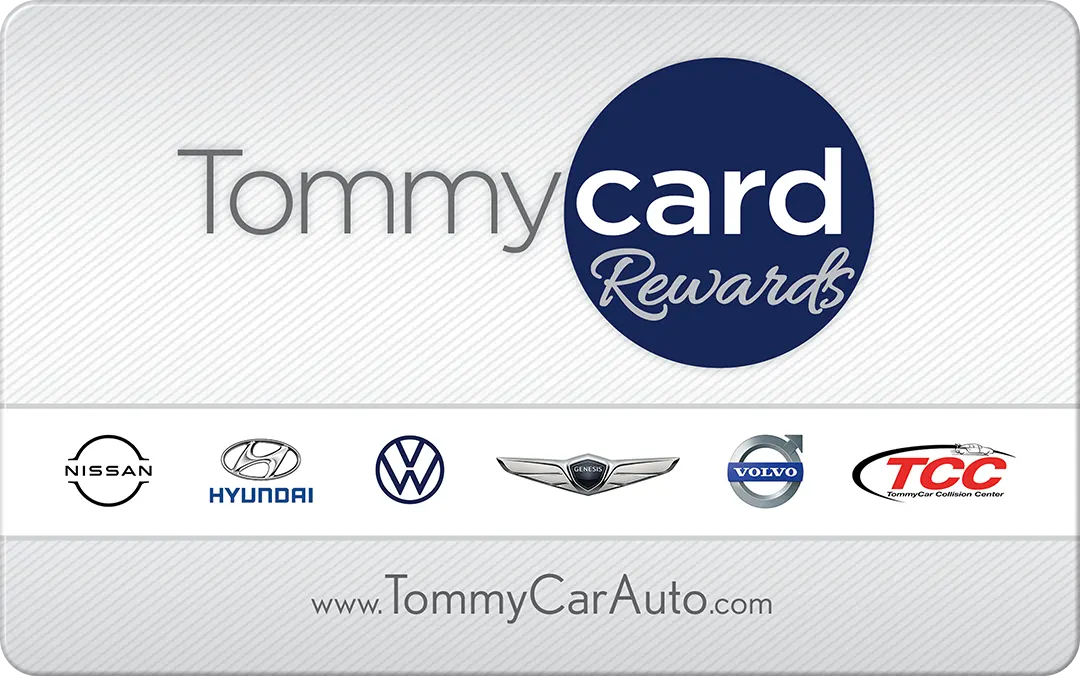 Free Collision Assistance - $200 VALUE!
If you are involved in an automobile accident, TommyCard Rewards members receive FREE towing to TommyCar Collision Center (within 50 miles). In addition, TommyCard Rewards members using TommyCar Collision Center for their repairs also receive a FREE two‑day rental vehicle!
Collision Repair Assistance - REDEEM UP TO $250!
As a privilege of the TommyCard Rewards program, should your vehicle be involved in a collision, we can help you get back on the road. Choose our TommyCar Collison Center for your repair, and you can utilize up to $250 in Points from your TommyCard Rewards account toward your deductible.
Totaled Vehicle Protection - $500 VALUE!
Should the unfortunate happen and our collision center determines that your vehicle is totaled you will receive a $500 credit toward the lease or purchase of a future vehicle from any of our TommyCar Auto group locations. Good for 60 days. Redeem along with your TommyCard Rewards points to maximize your savings.