Know Your Rights
When it comes to selecting a collision and auto body repair facility in Massachusetts, you have the right to decide where to bring your vehicle.
Schedule a Free Estimate +
Insurance steering is illegal in Massachusetts
What is insurance steering? Insurance steering is when your insurance company attempts to persuade you to use one of their collision centers that is in their "preferred network" or "Direct Repair Program" (DRP). Typically a DRP is an arrangement with the insurance company and selected auto body center where the body shop will agree to price concessions and in exchange, they will receive more business from the insurance company. Although insurance steering is illegal in the state of Massachusetts, it is still a very common practice. Do not be intimidated or feel coerced into taking your vehicle to a repair shop just because your insurance company suggested it. You have the right to have your vehicle repaired by the collision repair facility of your choice.
Car accidents can be overwhelming, choosing a repair facility, doesn't need to be.
After being in a car accident you will likely feel very overwhelmed. Your very first concerns should be making sure there are no injuries, and getting yourself and passengers to safety out of the road. Immediately following an accident there is usually a lot of communication going back and forth with the other party and police if they arrive to the scene. If your vehicle isn't drivable, it needs to be towed somewhere safe, and transportation for yourself and any passengers need to be made. You also need to call your insurance company and notify them of the accident so that arrangements to repair your vehicle can be made.
Following an accident, there can be a lot of misinformation from both your insurance company or the insurance company of the other party involved. One of the biggest misconceptions after an accident is that you have a limited number of places to repair your vehicle, usually provided by the insurance company. This is simply not true! With your personal property, you have the freedom to make the choice on where your vehicle is repaired, not an insurance company or agent.
"️Exceptional with customer service & at keeping me up to date on the status of my truck. They did an outstanding job with the work...it looks brand new.""
~ Brennan M. Google Review
Common Myths About Choosing Your Own Collision Facility
The insurance company won't cover my rental.
If you have rental coverage, regardless of where you repair your vehicle, you will be able to utilize a rental. Also, if you were not at fault for the accident, the other party's insurance will be responsible for your rental. Rentals will be handled the same no matter where you choose to repair your vehicle.
The insurance company won't cover my claim, or will only partially cover my claim.
The law states that the insurance company is responsible to cover all costs required to restore your car, truck, or SUV back to its pre-loss condition. It does not matter which repair facility you choose, your insurance company will have to pay them. If they try to tell you that they cannot work with a shop, they are being dishonest. The law very clearly states that every customer in Massachusetts has the right to choose where they repair their vehicle.
The repair will take longer if you use your chosen collision repair shop.
We will work to return your car to you as quickly as possible. Insurance companies are always going to want your car to get back to you as fast as possible to minimize the length of your rental and the costs associated with it. Sometimes when insurance companies pressure shops to have quick turnaround time, they cut corners. Your safety is most important to us and our goal is to be as thorough as possible during the repair process so that when your vehicle returns to the road your safety isn't compromised.
It won't be under warranty if you don't use the insurance companies suggested shop.
Insurance companies do not offer warranties on work completed, only the auto body shop can offer a guarantee or warranty of the work. At tommyCar Collision, we offer a lifetime warranty on all repairs. We make sure the collision and paint repair work is done correctly from the start and stand behind everything we do.
If the shop isn't in the insurance companies network, they can't guarantee how long the repair will take.
In this industry most shops can give you an estimate of how long a repair can take, but just because a shop is "in-network" doesn't mean it will be faster than another shop. All repair time depends on how long it takes to get necessary parts and additional damage that may be found once the vehicle is disassembled. We will always keep you updated during the repair process and let you know if we run into a delay.
You may need to pay out of pocket for the repair.
Your insurance company is responsible to cover all repair costs that are required to bring your vehicle back to pre-loss condition. TommyCar Collision will only use Original Equipment Manufacturer (OEM) parts, which are direct from your vehicle's manufacturer at no additional cost to you. Other companies may opt to use aftermarket or salvaged parts, but we only use OEM parts to ensure the right fit and functionality for your specific make and model.
REMINDER
You Have The Right To Choose.
Here are some of your rights when selecting a local body shop and navigating your insurance company.
You have the right to have your vehicle towed to any location of

your choosing.

Your insurance company is responsible for payment to restore your vehicle to

pre-accident condition.

You do not need to bring your vehicle to your insurance company or agent (sometimes known as a drive-in claims center). Your insurer must inspect your vehicle at any location of

your choice.
Before repairs are started, you must notify your

insurance company.

You do not need to have multiple

appraisals completed.

Your insurer must negotiate in good faith on your behalf with the shop of

your choice.
TommyCard Rewards members can
take advantage of the following benefits

when they repair their vehicle using the TommyCar

Collision Center.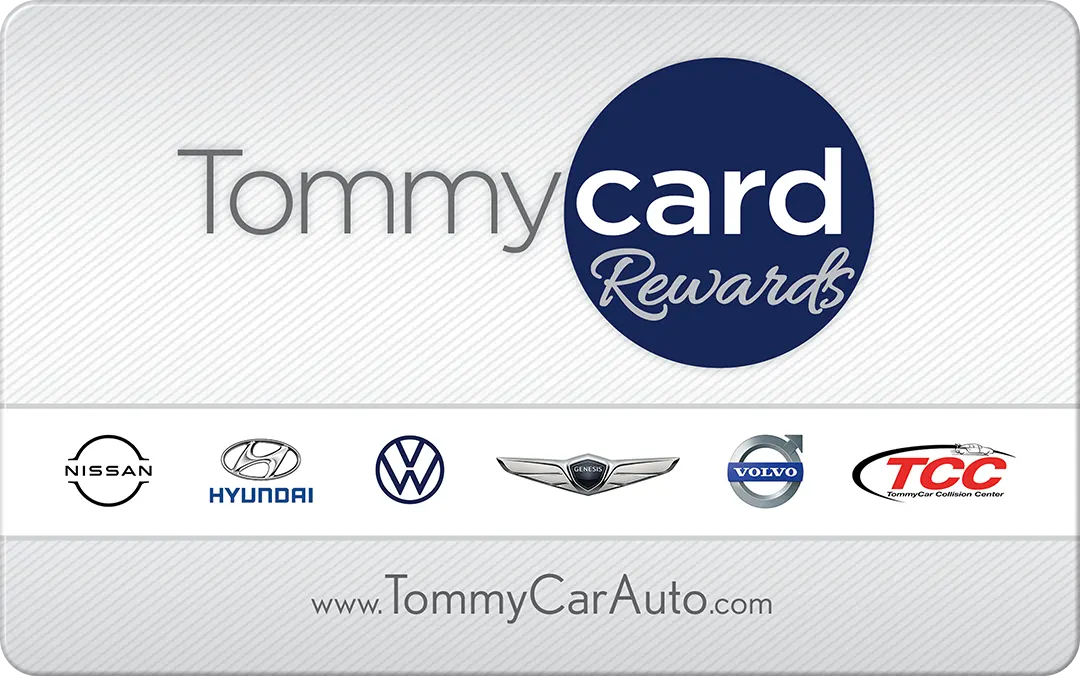 Free Collision Assistance - $200 VALUE!
If you are involved in an automobile accident, TommyCard Rewards members receive FREE towing to TommyCar Collision Center (within 50 miles). In addition, TommyCard Rewards members using TommyCar Collision Center for their repairs also receive a FREE two‑day rental vehicle!
Collision Repair Assistance - REDEEM UP TO $250!
As a privilege of the TommyCard Rewards program, should your vehicle be involved in a collision, we can help you get back on the road. Choose our TommyCar Collison Center for your repair, and you can utilize up to $250 in Points from your TommyCard Rewards account toward your deductible.
Totaled Vehicle Protection - $500 VALUE!
Should the unfortunate happen and our collision center determines that your vehicle is totaled you will receive a $500 credit toward the lease or purchase of a future vehicle from any of our TommyCar Auto group locations. Good for 60 days. Redeem along with your TommyCard Rewards points to maximize your savings.