CHECKLIST: Steps To Take After an Accident
1. Safety First
If you are able to, move the involved vehicles out of the road and to a safe spot. Place your vehicle in park, turn on your hazard lights, and turn off your engine. Check for any injuries, if anyone is injured, call for an ambulance. For added safety, use cones, warning triangles, or flares if available to you. Try to remain as calm as possible and take a moment to center yourself so you can approach the next few minutes with a clear and level head.
2. Call Police
In most cases, it is illegal to leave the scene of an accident without notifying the police. Even if the accident is considered minor, calling the police is the first step in getting an accident report filed. The accident report filed by the police can be an important document to assist you in the claims process and will help establish who may have been at fault.
3. Document Everything & Collect Information
If your accident involved another driver or personal property, you will need to collect essential information
Drivers and passengers names and contact information.
Vehicle descriptions

(make, model, year)

Driver's insurance companies

and policy numbers

Names and contact information of any witnesses, note exactly what they saw so you aren't trying to pull

from memory later on.

Accident location, address, and description. Be sure to note weather conditions, road conditions, and lighting at the scene of the accident.
Jot down your recollection of the accident including details on where you were driving from, vehicles driving around you, street lights, etc.
Name and badge number of any police officer who is assisting you.
This information will be helpful and necessary when making your insurance claim for any vehicle damage that occurred and important to have on file. Be polite and cooperative with all parties involved, but do not state that the accident was your fault, even if you believe it was.
4. Take Pictures
Sometimes pictures can be helpful in filing a claim, and act as records of the incident and used by your insurance adjuster. Use your phone and take photos of the following areas:
Any vehicle damage
Any property damage
Skid marks left on the ground
The entire surrounding scene
Road conditions ie potholes, ice, puddles, etc.
5. Get Police Report & File an Insurance Claim
After the accident, try and get the police accident report on the scene. In some instances, you may need to get it after it is filed at the police station. This document is essential information for filing your insurance claim and is a legal document. When you get the report, make sure it lists the name, badge number and contact information of the responding officers in the event you need to contact them regarding the accident.
If your vehicle has sustained any damage in the collision, call your insurance company to report your claim. It's possible your insurance company may send an adjuster to estimate the damage to your vehicle and start the repair process.
Remember, you always have the right to choose where you bring your vehicle for collision repairs.
6. Find a Car Accident/Collision Repair Shop
Most insurance companies will offer you a list of their preferred shops whree you can take your vehicle for repairs, but you are not required by law to select a shop from their suggestions. You can choose any auto body or collision repair shop that you're comfortable with, so we suggest making sure you select a reputable one in your area.
TommyCar Collision Center works with all insurance companies and offers free estimates, towing assistance, a lifetime warranty for all repairs, use of only Original Equipment Manufacturer (OEM) parts, and an unmatched quality control process.
Schedule a Free Estimate +
"️"Exceptional with customer service & at keeping me up to date on the status of my truck. They did an outstanding job with the work...it looks brand new!"
~ Brennan M. Google Review
TommyCard Rewards members can
take advantage of the following benefits

when they repair their vehicle using the TommyCar

Collision Center.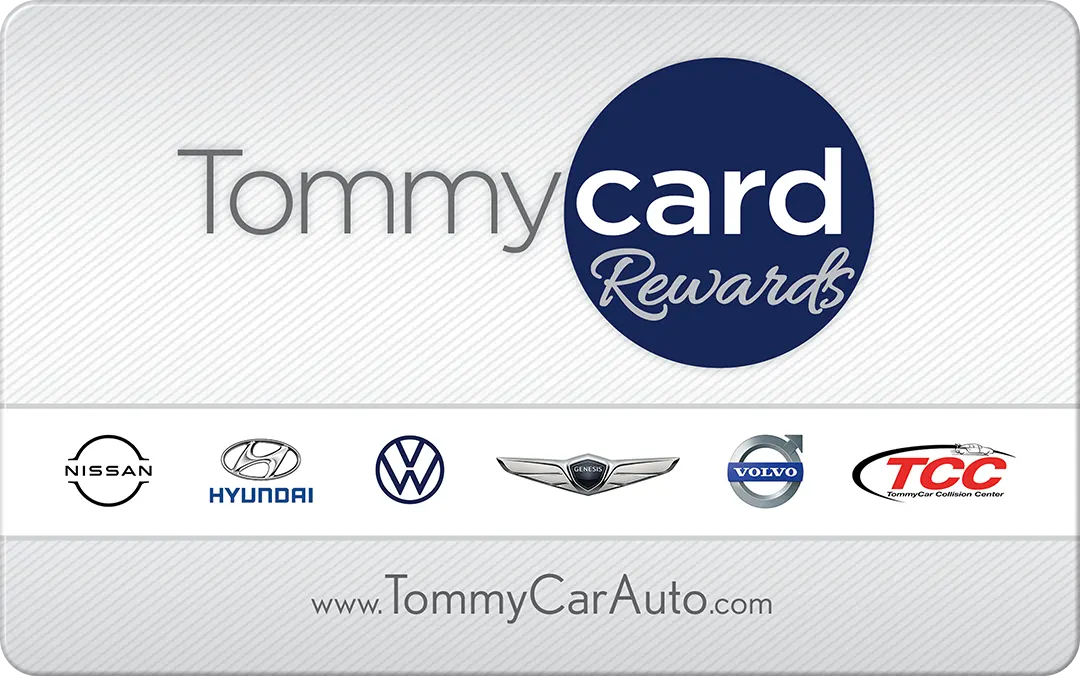 Free Collision Assistance - $200 VALUE!
If you are involved in an automobile accident, TommyCard Rewards members receive FREE towing to TommyCar Collision Center (within 50 miles). In addition, TommyCard Rewards members using TommyCar Collision Center for their repairs also receive a FREE two‑day rental vehicle!
Collision Repair Assistance - REDEEM UP TO $250!
As a privilege of the TommyCard Rewards program, should your vehicle be involved in a collision, we can help you get back on the road. Choose our TommyCar Collison Center for your repair, and you can utilize up to $250 in Points from your TommyCard Rewards account toward your deductible.
Totaled Vehicle Protection - $500 VALUE!
Should the unfortunate happen and our collision center determines that your vehicle is totaled you will receive a $500 credit toward the lease or purchase of a future vehicle from any of our TommyCar Auto group locations. Good for 60 days. Redeem along with your TommyCard Rewards points to maximize your savings.